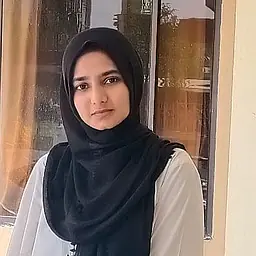 Kashf S.
Biology, History, English, Spoken English
Languages
English
Urdu
Punjabi
Tuition Rate
Min: Rs. 8,000 / month
Max: Rs. 13,000 / month
About Kashf S.
Hey there, I am an undergraduate student of Government and public policy, having more than a year experience of tutoring O/A levels and intermediate students. Being a Social science student, I hold a strong grip on subjects like history, general knowledge, English, and politics. With my intermediate in pre-medical, I am also a proficient teacher of Biology and chemistry. I have helped my students to improve their grading percentages from 70% to 85% within two to three months. For all learning enthusiasts, this is a platform that will provide them with step-by-step learning guidance moving from general facts to understanding technical concepts. Your online learning journey with me will include discussions, pictorial representations of key concepts, learning through graphs and animations, and much more. I highly appreciate questions from students as it makes the learning process more engaging and interesting. So, book a free demo session if you want to improve your grades within a limited time while grasping the concepts strongly without being too harsh on your pockets. See ya!
Reviews (2)
Aamir
|
Rating:
5.0
|
Recommended
Teaching Style
|
Flexibility
Very helpful and helps me understand concepts thoroughly.
Anonymous User
|
Rating:
5.0
|
Recommended
Teaching Style
|
Flexibility
Highly recommended for a good teaching style.