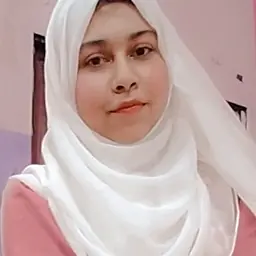 Muqaddas s.
English, IELTS, Essay, Education
Languages
English
Hindi
Urdu
Sindhi
Punjabi
Korean
Tuition Rate
Min: Rs. 200 / hour
Max: Rs. 15,000 / hour
About Muqaddas s.
I am a passionate, enthusiastic, and dedicated English teacher with experience teaching all ages. I have a strong understanding of the English language and am committed to providing my students with the best possible education. I use a variety of teaching methods to engage my students and to help them learn in a fun and effective way. I am a hard worker and am always willing to go the extra mile for my students. I am a good communicator and am always willing to listen to my students' needs. I am confident that I can create a positive learning environment for my students and help them reach their full potential. I also have experience teaching IELTS and am confident that I can help my students prepare for the exam and achieve their desired score.
Reviews (4)
Anonymous User
|
Rating:
5.0
|
Recommended
Teaching Style
|
Flexibility
Mr Saqlain's English class
It's been very productive for me that I have found the best teacher or motivator for improvement in English communication with good fluency. She is so nice and she guided me so politely. I will Highly recommend Ms. Muqaddas Sajjad, for all those who want to get new ways of learning for the next level.
Aqib S.
|
Rating:
5.0
|
Recommended
Teaching Style
|
Flexibility
She is a best teacher..i have really liked her teaching style..Moreover, i learned a lot of knowledge from her
MANSOOR K.
|
Rating:
5.0
|
Recommended
Teaching Style
|
Flexibility
Mr Mansoor's english class
Her teaching style is very good. She will motivate you to speak with confidence.
Aryan A.
|
Rating:
5.0
|
Recommended
Teaching Style
|
Flexibility
I am facing English-speaking issues due to some reasons; that's why I need someone to practice English with me, especially business English, and then I reach out to Muqaddas on tutorbees. First and foremost, Muqaddas has an excellent command of the English language, and their teaching methods are truly effective. Moreover, they are patient and understanding, and they tailor their teaching approach to suit the needs of individual students. Overall, I would highly recommend this English teacher to anyone looking to improve their language skills. They are knowledgeable, professional, and truly passionate about teaching, and I do not doubt that they will continue to inspire and empower their students.