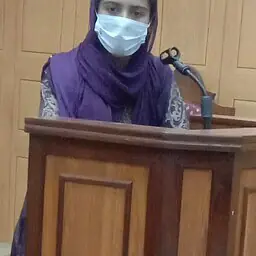 Ruqia B.
Chemistry, General Science, Mathematics
Last active about 12 hours ago
Languages
Saraiki
Urdu
English
Punjabi
Tuition Rate
Min: Rs. 10,000 / month
Max: Rs. 15,000 / month
About Ruqia B.
Happy to see you here!! My name is Ruqia. I have done my FSC from PAEC Model College for Girls Chashma (Federal board )with 947/1100 .Currently doing BS Chemistry from Qaid-i-Azam university Islamabad. I have completed my 6th semester with 3.9 GPA.With alot of experience as a tutor I can teach you in enaging and interactive way. I use SLOs to complete my duties with honesty. I have been teaching following subjects from 6-12 grade students since 2020. 1)Chemistry 2)General science 3)Biology 4)Islamic Studies 5)Pakistan studies 6) English grammar We can negotiate about pricing.
Reviews (1)
Anonymous User
|
Rating:
5.0
|
Recommended
Teaching Style
|
Flexibility
Ms. Bibi has a remarkable ability to break down complex chemistry concepts into easily understandable parts. She is always willing to answer my questions, no matter how many I have. I can confidently say that Ms. Bibi has had a significant impact on my understanding of chemistry.