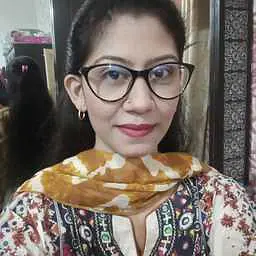 Tayyaba Gul
Mathematics, Add Maths, Trigonometry
Tuition Rate
Min: Rs. 500 / hour
Max: Rs. 1,000 / hour
About Tayyaba Gul
I have graduated in Civil Engineering from NED University . I have taught Mathematics in different schools for about 6 years. Currently I am providing online tuitions to many local and International students and helping them in preparing for their IGCSE Olevel and Alevel exams. I have good command over the contents of the Mathematics and have been working on past papers with many students. I own a digital pen that helps me in making the session interactive and the topic very much easy to explain.
Reviews (4)
Aman Paryani
|
Rating:
4.0
|
Recommended
Teaching Style
|
Flexibility
Ms. Tayyaba has a good teaching technique, which makes learning an exciting experience. She has a detailed understanding of mathematics.
Sohail Ur Rehman Toor
|
Rating:
5.0
|
Recommended
Teaching Style
|
Flexibility
My son is a student of Grade 7 in an international school and getting assistance from Ms. Gul for Math. Ms. Gul is an experienced teacher and has an excellent command of math. She explains each area of math (numbers, geometry, stat, etc.) according to the student's proficiency level. The best part is that my son doesn't feel bored or exhausted even when the session is extended beyond the scheduled time. She is interactive, friendly, and regular. She uses a variety of teaching material (online assessment/Quiz) to assess student's understanding at the end of every learning objective and rework with the student to bridge deficiency if any.
Sindhu
|
Rating:
4.5
|
Recommended
Teaching Style
|
Flexibility
She is a well-knowledged teacher with good methods of teaching.
Sohail Ur Rehman Toor
|
Rating:
4.0
|
Recommended
Teaching Style
|
Flexibility
She is interactive and engages the student in discussing the topic for a better understanding