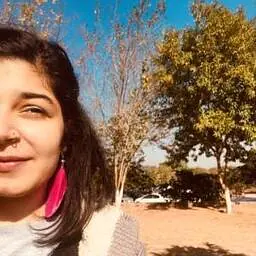 Zala Farooq
Arts, Conversational English Skills
Last active about 13 hours ago
Languages
English
Pashto
Urdu
Tuition Rate
Min: Rs. 300 / hour
Max: Rs. 800 / hour
About Zala Farooq
Hello there! My name is Zala Farooq, and I am delighted to offer my online tutoring services to you. As an Architect turned artist and educator, I bring a unique blend of creativity and teaching expertise to the table. By day, I am passionate about nurturing young minds and helping them explore the world of art, while by night, I dive into my own artistic pursuits. With a diverse range of mediums at my disposal, including pencils, watercolours, gouache, and oils, I have honed my skills over the years to create captivating and expressive pieces. Drawing from my experience of over 4 years in teaching art, I have had the privilege of conducting workshops for individuals across various age groups. From young children taking their first steps in art to adults seeking to unleash their creative potential, I have been fortunate enough to guide and inspire students on their artistic journeys. In addition to my passion for art, I have a strong background in English education, with over 16 years of formal education in the language. This proficiency in both written and spoken English has allowed me to assist numerous students in improving their language skills through private tutoring since 2019. As an avid reader, I believe in the power of language and the beauty of self-expression. In my classes, I strive to create an enjoyable and engaging learning environment, tailoring my teaching style to the individual needs of each student. I understand that every student has unique strengths and areas for improvement, and I am dedicated to helping them unlock their full potential. In my approach to teaching, I emphasize positive reinforcement and empathetic learning. I believe that nurturing a student's self-confidence and providing a safe space for exploration are crucial to fostering effective learning. By combining encouragement with constructive feedback, I ensure that students feel supported and motivated to reach their goals. Whether you are looking to enhance your artistic skills, improve your English language proficiency, or both, I am here to guide you on your educational journey. Together, we will explore new horizons, unleash your creativity, and develop the necessary skills to succeed. Thank you for considering me as your online tutor. I look forward to helping you grow and achieve your aspirations. Let's embark on this exciting learning adventure together!
Conversational English Skills
Reviews (0)
There are no reviews yet!